Cross-Cultural and Gender Center
Meet Our Staff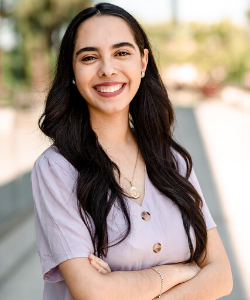 Deyanire Del Toro
M.A. Educational Administration
Program Coordinator
Responsibilities:
Supervise 2 student coordinators, oversee yearly Latino/a programming, work with administration to continue to build Latino/a/x connections and advocate for the Latino/a/x community at Fresno State.
Interests/Hobbies:
Record shopping, walking around thrift stores looking for hidden treasures, playing with my cats Rei and Morgan and my puppy, Olive, spending time with my partner and daughter watching movies, eating delicious food, and drinking boba!
Why do you do this work?:
I have always had a passion for social justice work and can't believe I get to do this everyday with students that are also passionate about equity work. My long-term goal is to go on and positively impact college campuses in my role by continuing to build spaces and advocating for marginalized students on campus.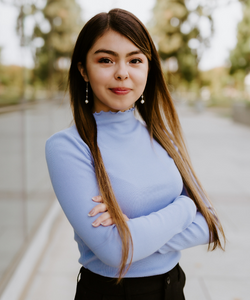 Lesly Beas
B.A. Sociology (In Progress),
Minor, Communications
Student Coordinator
Responsibilities:
Co-facilitate and organize large scale programs such as Cesar Chavez Celebration, Dia De Los Muertos, Hispanic Heritage Month, and La Posada; Help plan events that address social justice issues from a Latino/a perspective as well as implement services focusing on Latino/a and intersectional related issues.
Interests/Hobbies:
listening to music, working out, traveling, painting, reading, playing with my dog Bambi
Why do you do this work?:
This position fits well with both my values and interests as I feel passionate about uplifting the Latino/a community and advocating for equity amongst marginalized groups. As a first generation Chicana scholar, I understand first handedly the difficulties and challenges that our Latino/a students go through. Therefore, through this role, I will strive to develop campus wide programming and services that cover these issues in order to make the Fresno State campus a more inclusive, safe, and equitable space.