Cross-Cultural and Gender Center
Meet the Staff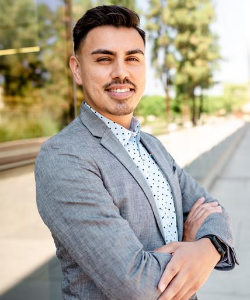 Estevan Parra (He/Him/His)
B.A. Business Administration
M.A. Higher Educational Administration and Leadership
Coordinator
Responsibilities:
Provide encouragement, support, resources, and education to meet the needs of the LGBTQ+ community.
Interests/Hobbies: I love dancing! Fun fact: I have been dancing professionally for over a decade. Secondly, I cherish Sunday BBQs with my family (mom, dad, 10 siblings, and 15 nieces and nephews). Lastly, I am always open to learn and travel the world with my partner.
"Why

do

you

do

this

work

?":
In the last ten years that I have spent at Fresno State, I have noticed the great
work
that has been completed to make this institution an inclusive and welcoming space for our LGBTQ+ students. I also recognize there is an achievement gap. I
do
this
work
with passion and dedication to support in reducing the gap and fight for those students who feel like their voices are unheard or invalid. You matter.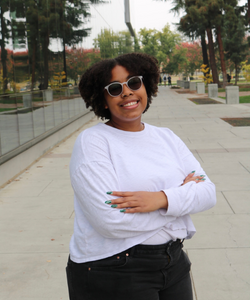 Bryanna Caesar (She/Her/Hers)
B.S. Animal Science, Science Option- Pre-Veterinary Emphasis (In Progress)
Student Coordinator
Responsibilities:
I have Jane Addams Commemoration event, Take Back the Night Event, Transgender Day of Rememberance, Women's History Month are some of the major events that I do. I also host a Gender and Identities 101 presentation with LGBTQ + programs and services.
Interests/Hobbies:
I like to read and listen to music, especially Harry Styles, The 1975, and J. Cole. I love Marvel movies and my favorite characters are Loki and Bucky. I crochet in my freetime and I love Basketball and Volleyball.
Why do you do this work?
I do this because I feel very passionately about gender and how we can stop gender based violence. I want people to be able to be comfortable in their own skin in regards to gender and I also want to educate more people on gender and gender based issues.